Service and Parts
"There are no traffic jams along the extra mile."
Roger Staubach, QB Dallas Cowboys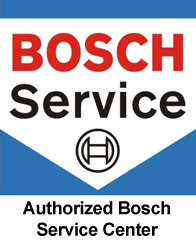 Since adding the service aspect of our business in 1990, the cornerstone of the business is being able to service what we sell. We are also just as willing to service what you buy, whether purchased from Parolin or not. We are a Bosch authorized service providers, with an acute focus to bring specialized service to your Volvo, Mercedes Benz, BMW, Porsche or VW/Audi automobile.
In support of our service center's pursuit of expertly maintaining your European vehicle, our parts department boasts over $250,000 of European specific parts in stock. This stock allows us to quickly service the needs of your automobile and maximize the convenience for the client even so far north of the GTA. Our parts department will search North America wide for the best solution in servicing you cars' needs. This may be achieved through specialist rebuilt or a quality used part, in accordance with the budgetary considerations of each client. This fact is a primary difference between our dealership and most, if not all franchised dealers, and many independent shops. This primary difference is also a competitive advantage, an advantage which you may bank on.
Through the specialization developed to service Volvo, BMW, Porsche and Audi vehicles since 1990, our expertise and capability to service other imported marques has strengthened. Owners of Mercedes Benz, Volkswagen, Jaguar, and other European marques are welcome to contact our service department to find out in which ways we may help you and your automobile. Owners of many Japanese nameplates including, Honda/Acura, Toyota/Lexus and Nissan/Infiniti are afforded the same courtesy, please contact us for further details on services provided.

View Service Menu
Specialized Services Provided
Factory approved maintenance and servicing
3D 4 wheel alignments
Track day inspections/preparation
Specialized complete vehicle diagnostics
Full network/bus system diagnostics
Vehichle software updating
Module programming and coding
High performance wheel and tire install
Pre and post sale inspections
Mechanical restorations
Engine carbon cleaning
Fuel injector/Fuel system cleaning
Seat and soft top upholstry services
Diesel engine repair & service